Senegal Hosts AFDB-OECD Conference on Youth Employment in West Africa.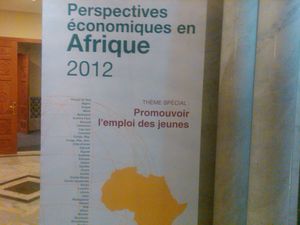 The Government of Senegal hosted the West Africa Regional Conference on Youth Employment on Saturday, November 10 in Dakar. The one-day conference, co-organized by the African Development Bank and the OECD Development Centre, brought together West African Ministers, youth organizations, civil society and the private sector.
The conference received the special attendance of H.E. Olusegun Obasanjo, former President of Nigeria, and was coached by Moroccan businessman and former producer of the World Economic Forum in Davos, Richard Attias, and Didier Acouetey, President of AfricSearch and co-organizer of the Africa South East Business Forum. The conference was opened by Moubarak Lô, Cabinet Minister and Advisor to Senegalese President Macky Sall; Yves Leterme, former Prime Minister of Belgium and Deputy Secretary General of the OECD; Obasanjo; and Leila Mokadem, the Bank's Resident Representative in Dakar. Amadou Bassirou Diallo Senior Economist in African Dévéloppement Bank; Senegal's Minister of Finance, Amadou Kane, chaired the event.
The conference covered two broad themes:
Creating the education models, training opportunities and skills needed for Africa's youth and development in West Africa; and
Setting strategies for job creation, economic policies and business models for the region.
Youth unemployment levels in West Africa are among the world's highest, hovering at over 25 per cent, according to the International Labour Organization. Africa has a very young population that is growing fast and there is a strong need to capture the demographic dividend of Africa's population growth.
The Dakar Conference on Youth Employment is part of the African Development Bank's Human Development Strategy that focuses its resources and knowledge on areas that increase the likelihood for Africa to capture the demographic dividend. These key areas include investing in education, science and technology that will focus on better matching the supply and demand for skilled workers to address youth unemployment in Africa. Materials presented at the conference reflected the work prepared by experts and academics in thematic areas, including the findings of the 2012 African Economic Outlook: Promoting Youth Employment, a joint publication prepared by the OECD, AfDB, United Nations Development Programme and the UN Economic Commission for Africa. The conference is part of the Joint AfDB/AU/ILO/UNECA Youth Employment Initiative (JYEI) for Africa that calls for more knowledge generation on youth employment, joint operations, and country-level policy dialogue and coordination to upscale scarce resources.
The goal of the conference was to highlight successful West African policies, programs and initiatives in the area of youth employment and to raise their profile across the region. Its objective was also to mobilize business and civil society actors to support and sustain economic reforms for an inclusive growth process. The event brought together the policy makers, experts, private-sector representatives, academics, members of civil society and youth representatives from Africa and beyond.
Contact Amadou Bassirou Diallo OSHD